We choose our tools with care because the right tool can do a better job more efficiently.
For example, there are many types of hammers and nails.
40 Different Types of Hammers and Their Uses (with Pictures)
The different types of hammers on the market today is overwhelming. If you've ever wondered what each hammer type looks like or what it's used for, this handy guide will explain it all.
https://www.garagetooladvisor.com/hand-tools/different-types-of-hammers-and-their-uses/
You can try using a claw-hammer for everything, but picture framing and dry-lining a wall need different hammers. And, of course, not everything is a nail!
New tools require an investment of time and money. Existing tools may be 'slower' and not as good as the new shiny thing. Or they may be perfectly adequate for your current needs.
Consider the cost of buying and learning the new tool. Is it worth another monthly subscription of $10 (or more) and the accompanying steep learning curve? Will it make my podcasting simpler and quicker?
We want to be good at podcasting, and using the right tools will help.
Let me give an example of a powerful, affordable tool that can grow with your needs.
What it does
Using various algorithms and AI, Auphonic is my last step before publishing. It is my polisher of choice, and it does:
Levelling, taking into account multiple speakers, speech and music.
Loudness Normalization – outputting to industry standards for publishing (in LUFS).
Restoration/Repair – including background noise and hum reduction.
It can be used for multitrack projects – processing tracks both individually and collectively. You can add standard intro/outro files to a project during processing, plus include ID3 tags, metadata, and show-artwork.
How to use it
Simply upload a WAV file and choose your settings for treatment and output. Even starting with the defaults will give good results. You can create a preset for a one-click processing option if you regularly repeat settings. Presets are a great time saver for podcast episodes.
Here you see the before and after.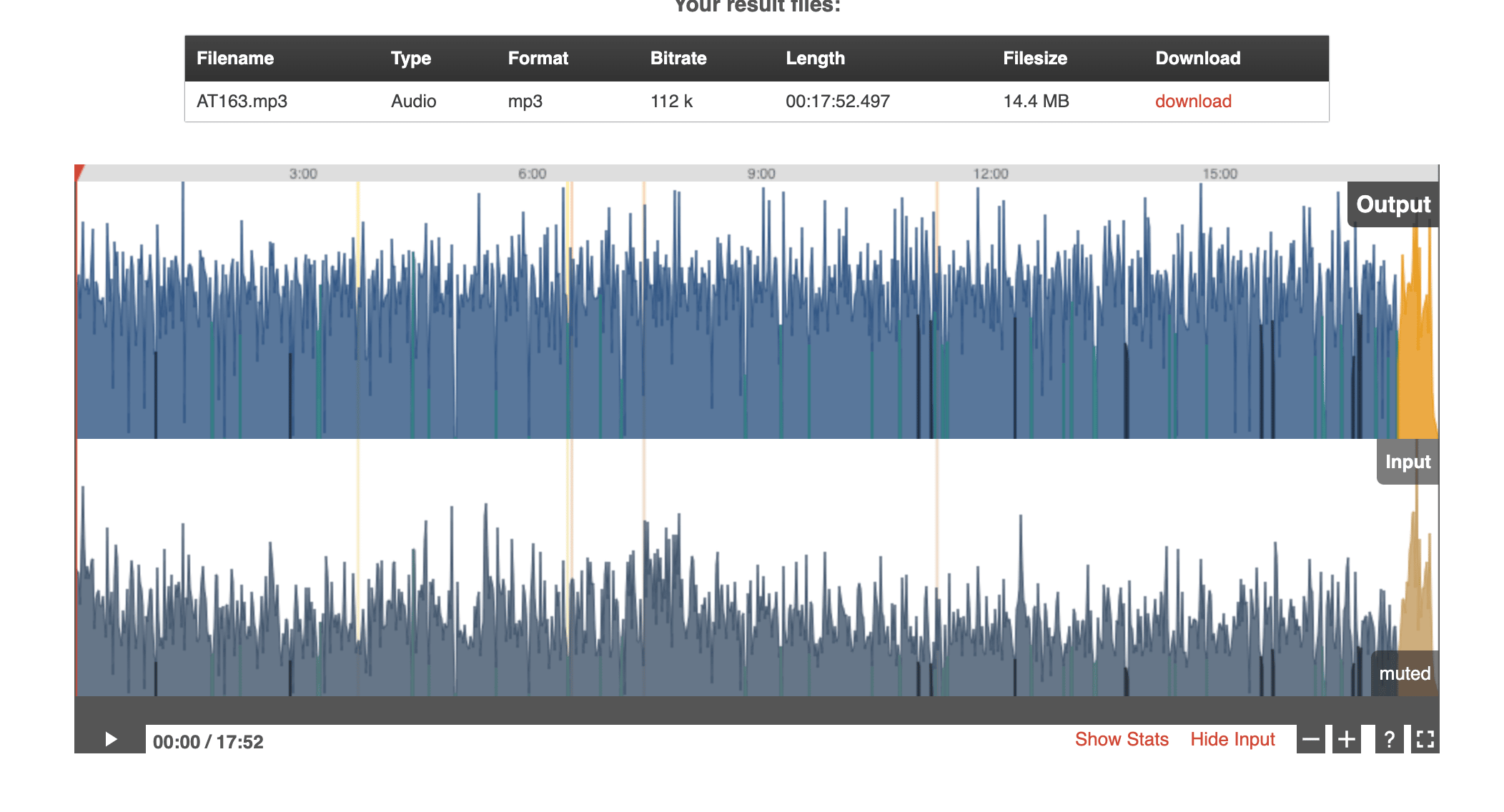 Even though it regularly works magic, giving it the best quality audio you can helps.
Additional options
Auphonic will allow you to create multiple output files at a time in a wide range of formats. You can publish directly to an external service (e.g. many podcast hosting platforms). It will create audiograms and videos and carry out speech recognition (linking to an external speech recognition engine).
This powerful production tool deserves your attention if you are unfamiliar with it. Or why not revisit to remind yourself of its full capabilities if you already know about it.
Find more information about Auphonic and a free trial at their website. 2 Hours of processing time per month remains free, and if you need more, you can buy credit or add a monthly subscription. I love this flexibility and business model.
Let me know how you get on.
---
What other tools do you regularly use that you would recommend to others? Drop me a line, and we will find a way of sharing it.
Something to see
Here is a fascinating discussion between Rich Roll and Andrew Huberman about how the brain's chemistry promotes neuroplasticity and learning, coping with stress, sleeping better. It is long and technical in places but has some great insights you can apply to whatever you do.
Change Your Brain: Neuroscientist Dr. Andrew Huberman | Rich Roll Podcast
or listen to the audio only
And finally
It is about the work, not the tool.
Sounding good is part of people being willing to listen.